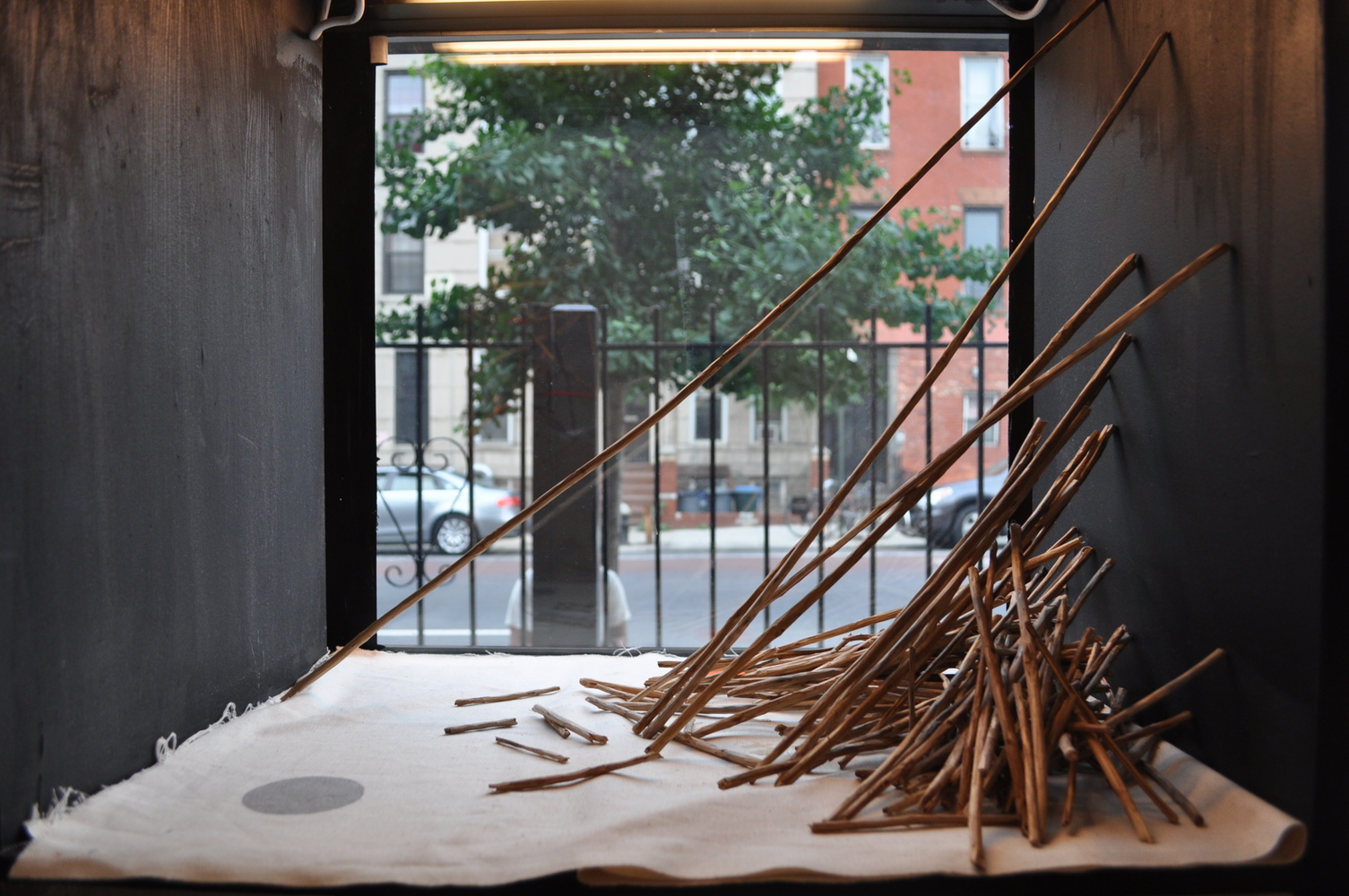 ANDREW ZAROU: "SLIGHTLY WARMER THAN WARM"
July 2nd – August 2nd, 2015
Opening reception: thursday, july 2nd, 6 – 9pm
Sometimes we cruise through decades of life without ever really understanding our own most basic and personal core traits and behaviors. They are not recognized because our radar is focused outwards. This show is about making discoveries of self and finding the connections between previously isolated thoughts, behavior and activities.
My twin affinities for music and art have been with me since teenage years, but the conceptual divisions came early. While enrolled as an undergraduate student at Hampshire college in the early 90s I was studying art, but I was playing music in a band. At the time, I never would have considered taking a music theory class. For me, being in a band was born out of the romantic notion of doing something collaboratively that was self-taught in the folk tradition of punk rock. I thought an academic training in music would "spoil" the purity of an informal, highly-personalized and intuitive approach to creating and organizing sound. I took this belief about stratification into the realm of visual arts, as well.
The individually hand-packaged mix tapes and cds I been making since the 80s almost invariably have collaged covers. Collage was the perfect creative approach for this sort of project because collage, like being in a band, did not require formal training. Both disciplines were aligned, in that one could be informed about them by the culture at large.
Over the last four years I have been gradually putting the puzzle pieces together. I can pinpoint the time that this chapter began because it directly ties into my moving into my current home/studio. When I moved into this apartment in April of 2011, I had not had a studio practice for roughly a year. The year prior I had been itinerant. Most of my belongings were put into storage since I had moved several times since the spring of 2010. I felt self-consciously rusty when I began setting up my studio. How does someone who feels like a ghost physically transform back and revitalize?
The work I had been making prior to my year of multiple moves was collage-based works on paper with layers of found materials and stenciled spray-painted forms. Materially, it was about alchemy. Visually, it was about harmonic density. When it was time for me to reconnect with my studio practice in the spring of 2011, I felt like I was starting all over again and that I needed to depart from a point that was elemental and familiar. My first inclination was to go back to an approach to art-making that I discovered for myself as a nineteen-year-old kid: I started building linear three-dimensional structures from fallen tree branches. Doing so felt like an honest and manageable re-entry with an approach I knew I could trust. In essence, dense two-dimensional choreography gave way to skeletal three-dimensional drawing.
About a year into this new phase of making work I had an epiphany about what I was doing and how it related to my core. I was sitting on the studio floor surrounded by materials that were organized by size, color and shape. Suddenly, it triggered memories of being a boy playing on the floor of my bedroom. My play with plastic soldiers and Lego and glass marbles was highly organized by the same formal characteristics. It was as though time and space collapsed and I realized I was doing the exact same thing.
All of this made a lot more sense a year later when I read the book, The Gift of Dyslexia. Being diagnosed as a dyslexic at the age of eight and not knowing how or why I became dyslexic was a mystery I never bothered to solve. The book proposes the theory that being a dyslexic requires specific characteristics in a two-part equation. Firstly, the cognitive – being a visual thinker as opposed to a verbal one. Secondly, the behavioral – having a panic response to uncertainty. Add the two together while a developing child is learning how to read and it is very likely that states of "disorientation" will occur. It is understood that no two dyslexics have identical reactions or challenges to reading, but traits of disorientation are similar (i.e. scrambling and omitting words or letters, misspelling, mispronunciation, along with increased heart rate and body temperature).
I had always assumed that my challenges to reading engendered my aversion to it, and opened me up to nonverbal activities (like music and sports). For many years it was clear to me that being dyslexic had a lot to do with my becoming a visual artist, but I had not realized that the ongoing tug of war between chaotic uncertainty and the security of organization had been one of the main contents of my work.
Andrew Zarou
Brooklyn, NY
Andrew Zarou is a Brooklyn native who graduated from Hampshire College. He has recently exhibited at Drive-By Projects in Watertown, MA, and LOOK&LISTEN Gallery in Marseille, France, as well as locally – being included in the group shows, "Paintings In Trees" and "The Hollow Bone" (both Brooklyn, 2015). In 2014, Grove and Ceremony published the first iteration of his synesthesia project, "Force Multiplier (41)". It was a limited edition works on paper with accompanying twenty-three track compilation of interpretive audio that were contributed by musicians and sound-based artists. He collaborated with the artist, Nina Katchadourian, in 2013, for their artist-led walk entitled, "The Lesser-Known Sounds of Times Square" for Elastic City. The corporate collection of Fidelity Investments (Boston, MA) recently acquired nine drawings from his "Force Multiplier" series. The installation at GRIDSPACE is his first solo exhibition in three years.
https://www.andrewzarou.net
https://www.andrewzarou.net