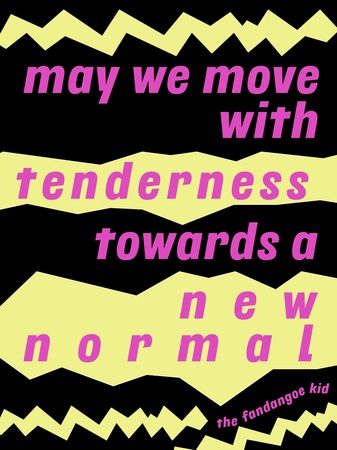 Tenderness 2020
Archival Inkjet on cotton rag paper
22 x 16.5 inches
The Fandangoe Kid: Tenderness
May 18 – July 5 2020
GRIDSPACE WINDOW+BOX is pleased to present
Tenderness
by The Fandangoe Kid. A window installation installed in the Rogers Avenue facing glass storefront at GRIDSPACE.
As we emerge from this great pause into the new normal, let's try and do it with an increased sense of kindness and tenderness towards each other. We're not going back to the old normal; there is nothing for us there. The future is new and uncertain and we're going to need to find softness in each other to make sense of it as we gently move forwards.
Love,
The Fandangoe Kid
The Fandangoe Kid
is the London based print artist Annie Nicholson. Working internationally her work seeks to smash taboos around complex subject matters such as death, trauma, mental health and gender constructs.
To coincide with the WINDOW+BOX project GRIDSPACE has published a limited edition print
Tenderness
in an edition of 12 with 3 APs.
Prints are $100 plus shipping / handling and include a signed certificate of authenticity by the artist.
The Fandangoe Kid has chosen to donate proceeds from print sales to a dear friend seeking political asylum. GRIDSPACE is donating profits to Crown Heights Mutual Aid.
​Orders and inquiries:
cg@gridspace.org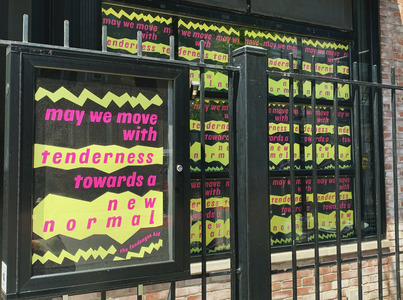 Installation view, GRIDSPACE, summer 2020

++++++++
++++++++
++++++++
++++++++
GRIDSPACE

​112 Rogers Avenue
Brooklyn, NY 11216

2,3,4,5 to Franklin