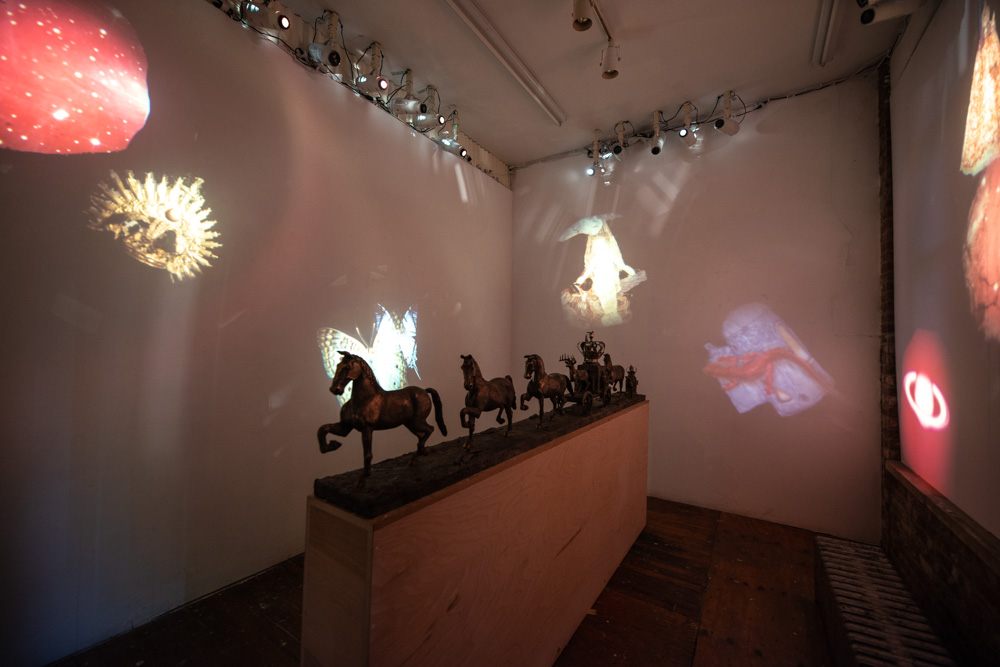 The Procession of the Invisible College
Ann McCoy / Gridspace
October 14 – December 2, 2018
Reception: Sunday, October 14, 4 – 6 p.m.
The idea for the "Invisible College" came from an emblematic illustration of the same title -- the 1618 work by Theophilus Schweighardt. Frances Yates in her book
The Rosicrucian Enlightenment
identifies this as the "
Invisible College
of the Rosy Cross." The
Invisible College
has been described as a precursor group to the Royal Society of London. This college mentioned in Rosicrucian Manifestos, is linked to alchemists like Robert Fludd, Michael Meier, Francis Bacon and John Dee, and a document of mysterious origins called
The Chemical Wedding of Christian Rosencreutz
.
I liked the idea of a college that studied numinosum, invisible forces, alchemical imagination, and dreams. What if we could learn as much from inner visions as from texts? The inner world as a source of wisdom has always been an obsession of mine. I cast a bronze processional to carry a model of the college building on the wheels shown in the 1618 drawing. The GRIDSPACE installation contains my sculptural processional, and lantern slide projections. Some of the projected images are from nature, and some are from my large-scale drawings.
Brooklyn, October 2016
Ann McCoy is a New York based sculptor and painter with a forty-six-year career beginning in 1972. She is a painter, sculptor, and print maker, as well as a curator and has a license in theater projection, and is a frequent contributor to the Brooklyn Rail. McCoy won a Prix de Rome in 1989 that allowed her to work with alchemical collections at the Vatican Library and Corsini Palace. Her work is included in the collections of many major American museums including the Metropolitan Museum of Art, the Hirshorn, the Los Angeles County Museum of Art, and the Whitney, the San Francisco Museum of Modern Art, the Los Angeles County Museum of Art, the Smithsonian, and others. She is a winner of a Prix de Rome, D.A.A.D. Kunstler Program in Berlin, N.E.A., Pollock Krasner, Gottlieb, and many other awards.
Known as incubation
Ann McCoy worked with Prof. C.A. Meier, Jung's heir apparent for twenty-eight years in Zurich. She has a background in Jungian psychology, and anthropology, and has studied alchemy for over forty years. The images in my work come from dreams, a process known as incubation in the Greek world. Incubation, a "sleeping in" was used to record dreams for therapeutic and prophetic ends. For McCoy, dreams represent a phylogenetically older mode of thought and are linked to the transformation process described in alchemical symbolism, the Alchemical Great Work.