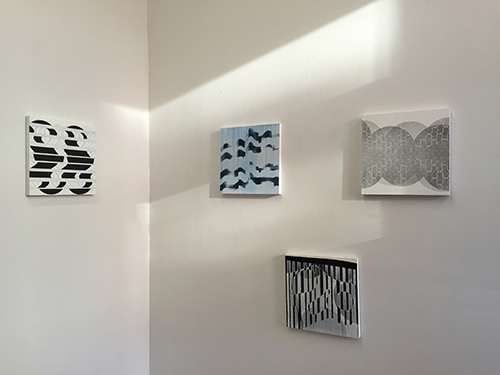 Jacob Cartwright: Love without Lovers
2015
GRIDSPACE presents Love without Lovers, an installation of twelve paintings and their negatives by Jacob Cartwright.
The exhibition takes its title from an unfilmed screenplay found posthumously among Ingmar Bergman's belongings. The screenplay itself describes an unfinished film. The director has vanished. Opening with a film editor piecing together a series of seemingly unrelated vignettes, over the course of the movie we see these episodic fragments sequenced and woven together. Returning to the framing story in the final scene, the director reappears and sets a match to the reels. The film goes up in smoke.
The paintings share a common format and as such are suggestive of frames within a sequence. The works in Love without Lovers are non-objective or, as the title suggests, disembodied.
Jacob Cartwright was born in 1977 and holds a degree in painting from the Kansas City Art Institute. He lives and works in Brooklyn, New York.
http://www.jacobcartwrightpaintings.com