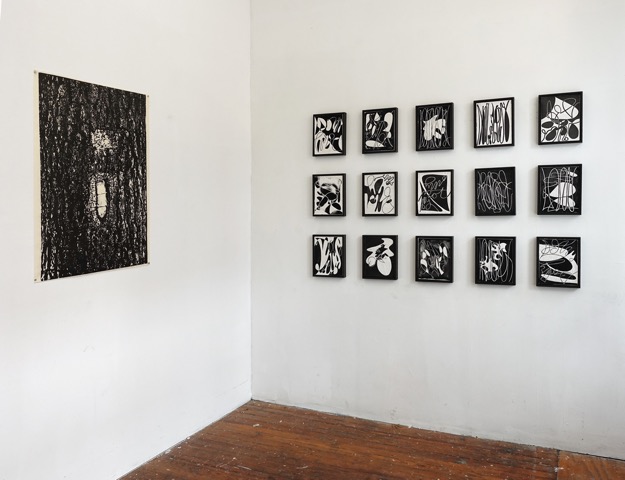 JJ Miyaoka & Anthony Ryan: C2c Project Space
February 2018

Press Release
C2c Project Space is pleased to announce our long-awaited exhibition, Project 13, featuring the work of printmaker Anthony Ryan, from San Francisco, and painter JJ Miyaoka-Pakola from New York City. Project 13 pulls a geographic switch in relation to our standard San Francisco, CA venue based program of bi-coastal artist pairings. Instead, this exhibition is presented in conjunction with GRIDSPACE Gallery, and will be on view at their location in the Crown Heights neighborhood of Brooklyn.
The impetus for creating a dialog between these two artists comes from the significance of their mutual focus on the use of commonly occurring abstract visual phenomenon, the kind often encountered in ordinary places and on everyday objects, as a primary source for their aesthetic vocabularies. From this starting point, each artist operates within their individual practice to layer and substantiate these fragments into work that provides rich experiential value.
By successfully appropriating and utilizing these potentially, otherwise mundane resources, Ryan and Miyaoka-Pakola closely investigate and reveal the beauty that is available on the periphery what could be considered a conglomerated diorama or cultural average of an everyday American life. Through their alchemical "romanticization" of these elements, and by shifting them into the focus of society's oversaturated field of vision, these artists elevate a common domain to a state normally withheld for that which is most culturally revered, thereby challenging our concepts of value, and exposing the narrow focus of our collective consciousness.
http://www.jjpakola.com
http://www.anthony-ryan.com​