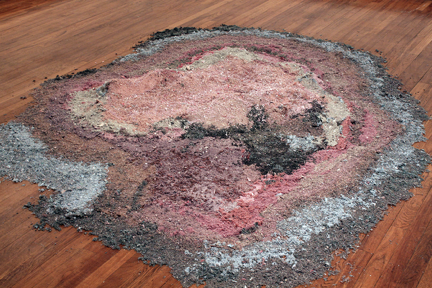 Julia Betts: Ruptured Holding
@ GRIDSPACE
December 15 – February 16, 2020
Opening Reception: Sunday, December 15, 4-6 pm
GRIDSPACE is pleased to present an installation of new work by Julia Betts entitled Ruptured Holding. Julia says about her work:
My work is defined by a series of radically disparate multimedia projects unified by their intentional unpredictability, use of unstable materials, and orchestration of situations in which my body and/or a constructed space are subjected to various hazards and forces of disorder. With each piece, my intent—although never completely pre-determined—is to push a range of materials to the limits of their utility, while placing myself in precarious circumstances that simultaneously function as metaphors of emotional/psychic vulnerability and pure demonstrations of intentional disarray. Generally, I make a mess—but it's a purposeful, highly textured mess.
Julia Betts recently graduated with an MFA from the Rhode Island School of Design. She holds a BA from the University of Pittsburgh where she worked with GRIDPACE artist Barbara Weisburger and it was through Barbara that GRIDSPACE was introduced to the work. Julia Betts has held exhibitions at ArtLab in Columbus, GA and Bunker Projects and O'Hara Ballroom, both in Pittsburgh PA. She has been in residency at VCCA and Millay. This is her first solo exhibition in New York. She has a forthcoming show at Space Gallery in Pittsburgh, PA.
++++++++
++++++++
++++++++
++++++++
GRIDSPACE
​112 Rogers Avenue
Brooklyn, NY 11216
2,3,4,5 to Franklin