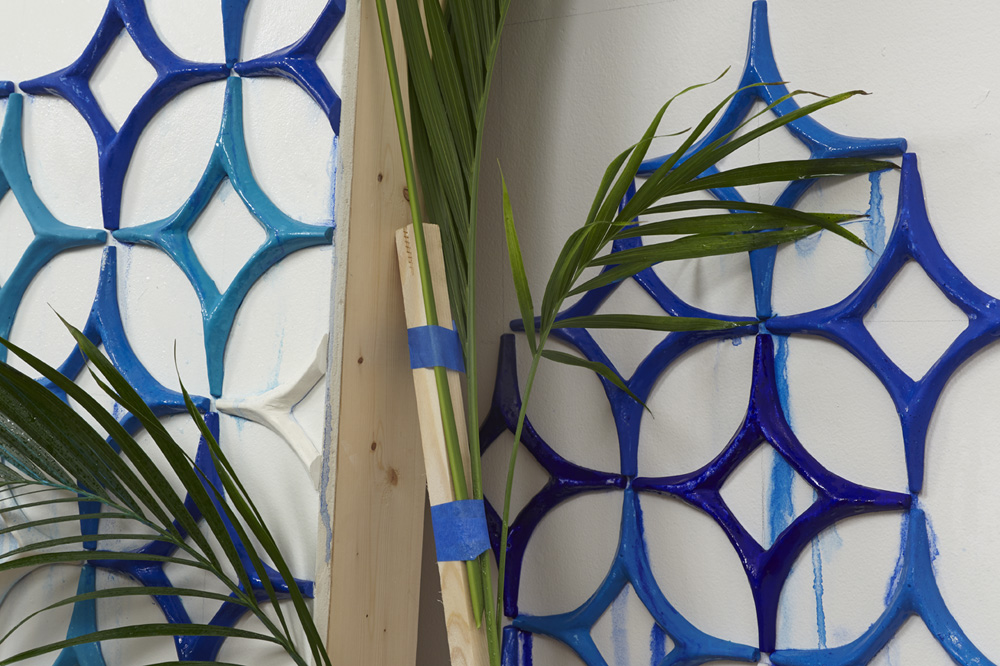 Kim Faler: Untitled
Opening reception Sunday, Nov 15th, 4-6pm.
Exhibition open Nov 15th – Dec 14th
Moving directly off the grid, Faler creates a site-specific installation that challenges the notions of permanence, and fabricating a sense of place or home. She introduces large fragments of architecture that abut the functional gallery walls. A watercolor-based wallpaper pattern runs across the space, moving in and out of focus and dripping down the wall into an electric blue puddle on the floor. Cast porcelain rocks line the edge or property line of the gallery. Portions of the rocks are shattered, illuminating a dream-like loss of functionality or purpose.
A small series of pencil drawings on porcelain accompany the installation.
Kim Faler received her BFA from Ohio Wesleyan University and her MFA from the Cranbrook Academy of Art. In 2008 she received a Joan Mitchell Foundation Grant, and in 2009 she received a U.S. Fulbright scholarship to Brazil. She has shown internationally at venues in Sao Paulo, New York City, Philadelphia, Detroit, and Boston. The artist's work was recently featured in the group exhibitions 'Invisible Cities' at the Massachusetts Museum of Contemporary Art, and the deCordova Biennial. In early 2015, she received a Robert Rauschenberg Residency in Captiva, Florida and is currently on the Art Faculty of Mount Holyoke College.
kimfaler.com