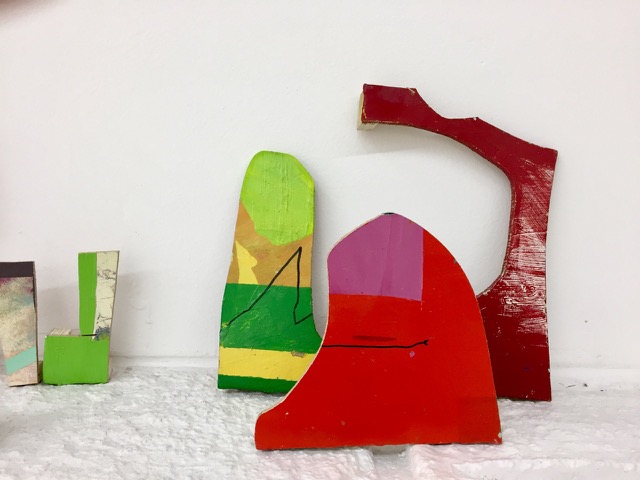 Never Contained the Landscape
Linda Geary and Kathryn Spence
June 9 – August 27, 2017
Opening: Saturday, March 11, 6–9 PM
ARTISTS' STATEMENTS
Longtime friends and touchstones of the San Francisco Bay Area's art scene for over 20 years, Linda Geary and Kathryn Spence present an amorphous exhibition of recent, small works.
Linda Geary's abstract paintings are inspired by material processes of transformation and reinvention. Her work explores the formal life of color at its most vital and intense, from encounters with weather, light, and local color, to public-private issues of visibility, using camouflage as an organizing structure and power source.
Exhibitions include the Berkeley Museum / Pacific Film Archive, Oakland Museum, Kadist Foundation, Bau Institute, Otranto, Italy, Yerba Buena Center for the Arts, Mills College, and the San Jose Institute of Contemporary Art. In 2013 she co-founded Painting Expanded, a symposium of contemporary painting at CCA, SF. Her book project, Studio Visit, 100 studio visits, with essay by Norma Cole. Reviews include Art in America, ArtForum, ArtPractical, KQED, Huffington Post, Portland Mercury News, the San Jose Mercury News, the San Francisco Chronicle, and Squarecylinder. She is the recipient of an Elizabeth Foundation Grant, a Pollock-Krasner, and residencies at the Millay Colony, Art Omi, and Yaddo. She is Professor of Painting and Graduate Fine Arts at California College of the Arts in San Francisco.
Kathryn Spence's objects and arrangements develop out of a fascination with materiality, physicality, and space.
Her solo exhibition, 'Dirty and Clean,' was recently exhibited at the Aldrich Museum of Contemporary Art in 2012. Other museum solo shows include Mills College Art Museum, Oakland, CA, 2010, the Johnson Museum at Cornell University, Ithaca, 2001, and the Kemper Museum of Contemporary Art, Kansas City, 1999. 'Material World' at the Denver Art Museum, and 'Indestructible Wonder' at the San Jose Museum of Art are recent groups shows, among others such as the 2005 Corcoran Biennial, Washington D.C., the California Biennial at the Orange County Museum, exhibitions at the Israel Museum, Jerusalem, SFMOMA, Mass College of Art, Boston, Torch Gallery, Amsterdam, Yerba Buena Center for the Arts, S.F., San Jose Museum of Art, and the Oakland Museum of California.
She is featured in numerous public collections including SFMOMA, the M.H. de Young Memorial Museum, the Oakland Museum of California, the Nelson Museum at U.C. Davis, Mills College Art Museum, the Denver Art Museum, the Birmingham Art Museum, the San Jose Museum of Art, and the Santa Barbara Museum of Art. Kathryn is a recipient of the Anonymous was a Woman award, the Eureka Fellowship, an Artadia award, and the Fleischhacker Foundation award.
She works in Oakland, California.
http://www.lindageary.com
http://wirtzart.com/artist/kathryn-spence-2/