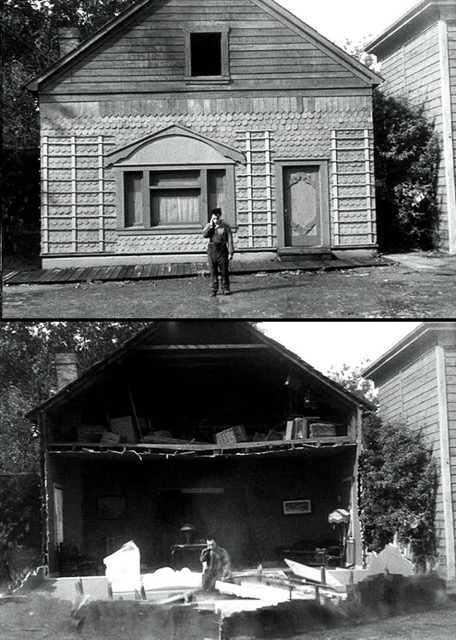 Matt Harle: Grids, space...
June 30th to September 8th
Closing Reception: September 8th, 4 to 6pm
I'm looking for a certain state of grace. It's there in the "ugly beauty" of the music of Thelonious Monk; it's there in the films of Buster Keaton; and it's there in certain minimalist and post-minimalist sculpture of the 60's and 70's: a sort of simultaneous manifestation and suspension of the laws of physics that allows the viewer to savor the "hero"'s predicament not just intellectually, but in a fully embodied way.
Though not usually thought of as funny, the physics of Richard Serra's "One Ton Prop (House of Cards)" allows it to function as a kind of suspended pratfall: an idea poised forever on the brink of coming fully to ground.
At the other extreme, in "Steamboat Bill, Jr.", the comedy and pathos of Buster Keaton's desire to redeem himself in his father's eyes is registered not in words, but on his body (and by extension, on ours) as he plunges through a series of collisions and near-misses into the hurricane.
This struggle between a work's material conditions and what might be called its aspirations, has been a common thread in my work over the years. It's also a quality I particularly associate with painting. While my work has always circled around painting without actually being painting, the current works represent perhaps the closest approximation so far.
But enough about art, let's talk about me. I'm a sculptor currently living and working in Beacon, NY. I've been doing this a long time, showing nationally and internationally. I've been the recipient of some awards and honors, including grants from the Pollock-Krasner and Guggenheim Foundations. I'm in the process of getting a new front deck on my house.