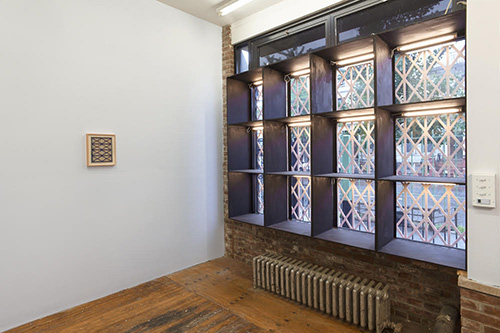 Melissa Thorne: By the Light or the Eye
2015
On view 24/7 and by appointment
May 31 – June 28
Monday, May 31, 4–6 PM
GRIDSPACE presents By the Light or the Eye, a painting installation by Melissa Thorne. The exhibition title describes a physical relationship to an architectural aperture: the window is often traversed by the eyes and by light, but not usually the body. Using the prominent Gridspace window as a point of departure, the artist delineates a viewing space from the street to the interior, employing framing devices and paint. The historical viewing space of painting is explored as both indexical and abstract. Using the layered motifs of gridded gates and screens, the installation proposes a metaphysics of looking.
Melissa Thorne received her MFA from California Institute of the Arts. Her work addresses multiple formats, including paintings on canvas and paper, and site-specific wall drawings in ink and watercolor. Her paintings have been shown widely in solo and group exhibitions at Suzanne Vielmetter Los Angeles Projects, Devin Borden Gallery (Houston), Galerie Rolf Ricke (Cologne), Galerie Schmidt Maczollek (Cologne), and Rosamund Felsen Gallery (Los Angeles), among others. Prior to moving to upstate New York, she lived and worked in Los Angeles for over a decade. Gridspace Editions is co-directed by artists Charles Goldman & Leona Christie.
melissathorne.com
During the show, Melissa Thorne and Gridspace Editions, presented: "Aperture" (2015)
"Aperture" is a print published by Gridspace Editions, created in conjunction with Melissa Thorne's painting installation By the Light or the Eye, on view at Gridspace from May 31 – June 28, 2015. The print features imagery and color gathered during the artist's travels in South America, and its visual references include the decorative patterns of urban security gates. A limited number of Thorne's unique watercolor + letterpress prints are now available online via paypal from Gridspace Editions.