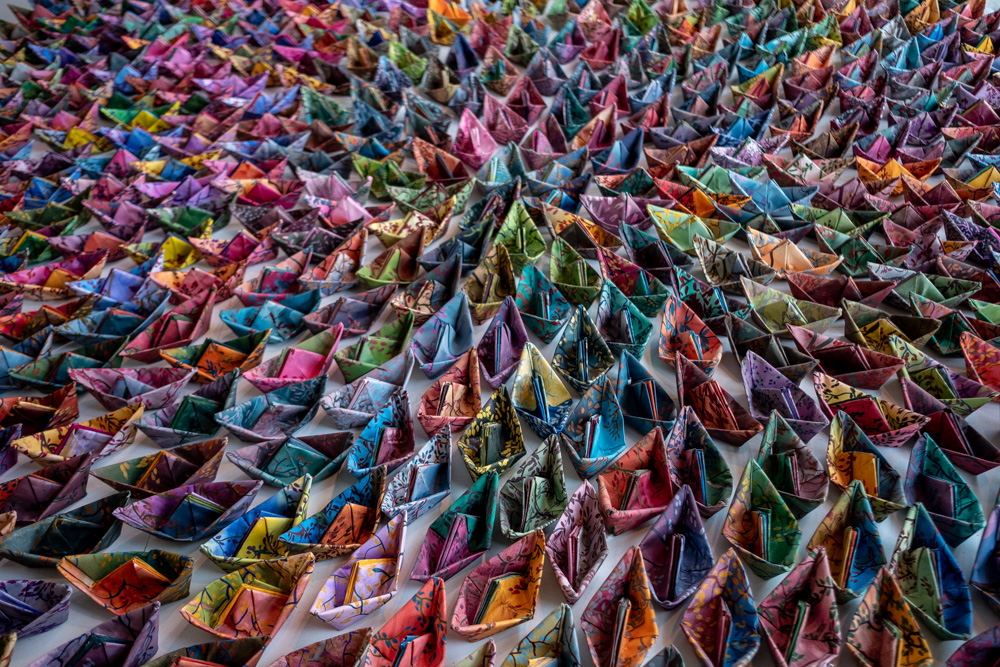 MONA KAMAL: 1001 MIGRATIONS
Spring 2018
GRIDSPACE is pleased to present a site-specific installation by
Mona Kamal
entitled
1001 Migrations.
The exhibition will be on view from Sunday, March 18 through Sunday, May 20 when there will be closing reception from 4 to 6 pm. GRIDSPACE will be open (by appointment) every-other Sunday from 4-6 pm for the duration of the exhibition while Kamal adds to her ongoing installation.
The paper boats in
1001 Migrations
represent journeys that we have all taken - as humans have migrated since the origin of humanity. Today we are bombarded with images of desperate refugees fleeing war torn countries and migrating to western nations. However, we all migrate. It can be to different neighborhoods, new cities, states and many times to different countries. We commonly think that migration takes place due to political reasons but many times we move for reasons such as educational opportunities, a job or, simply, for new experiences. The purpose of this installation is to celebrate migration
The boats represent the journey, when we are in between places. The process of making the boats is a meditation just as we enter a meditative state while we are on our journey.
I chose to make 1001 boats to reference
1001 Nights
- a book that is a collection of folk tales from the Muslim world. Specifically, the work is a collection made over many centuries by various authors, translators, and scholars across West, Central, South Asia and North Africa. The tales themselves trace their roots back to ancient and medieval Arabic, Persian, Indian, Egyptian and Mesopotamian folklore and literature. The book is narrated by a strong female figure named Sherezade.
Mona Kamal
is a multi-media installation and video artist who creates multi-media narratives about migration, journeys, and identities. Through questioning religion, conflict, and borders, she creates stories that directly confront her personal experiences and also the lives of people living in the many cultures that she lays claim to. Mona has exhibited both internationally and nationally with her most recent solo exhibition at Wave Hill in the Bronx and in 2015 she had a solo exhibit at VM Art Gallery in Karachi, Pakistan. She also has exhibited in New Delhi, India at Gallery Espace and has exhibited extensively in Canada including at the Art Gallery of Calgary, the Harbourfront Centre and YYZ Artists' Outlet in Toronto. In New York she has exhibited at Smack Mellon, the Queens Museum of Art, Exit Art and Rush Arts. Mona has held residencies at the Banff Centre in Canada, the Sanskriti Foundation in New Delhi, India and she was a media arts fellow at Bric Media Arts in 2015. She has received grants from the Foundation for Contemporary Arts, PSC CUNY Grants for Adjuncts, the Ontario and Toronto Arts Councils, and the Canada Council for the Arts. Mona received her BFA from NSCAD in Halifax, Nova Scotia and her MFA from Parsons the New School for Design.
https://monakamal.com/home.html