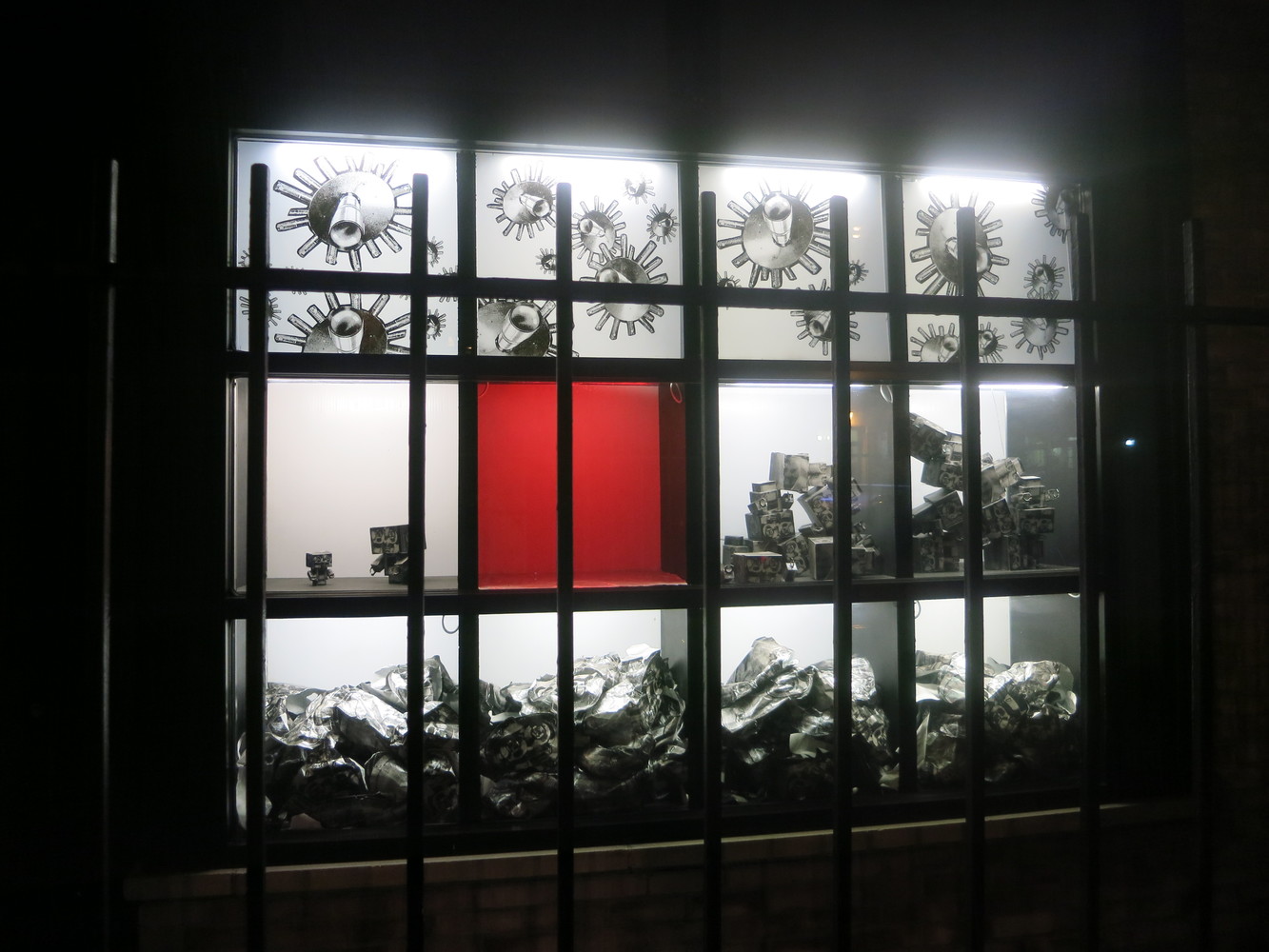 Nathan Meltz: I WANNA DESTROY YOU
June, 2014
Artist Statement
Part critique, part fascination, the art I create examines the infiltration of technology into every facet of our lives, from family and food to politics and war. Nightmarish industrial creations are set against images of grand mechanical constructions, an off-kilter vision of technology. In my visual vocabulary, the contemporary world of nanotechnology and genetic modification is retrofitted with analog mechanical parts. The Captains of Industry are sadistic gods.
Exploring this automated world through animation, printmaking, collage, and installation, I create narratives and relationships between mechanical humanoids and animals. These tales of love, violence, and circuit boards alert the viewer to the inevitable robot invasion, and prepare them to resist.
Nathan Meltz
uses collage, printmaking, sculpture, and animation to comment on the infiltration of technology into every facet of life, from politics and food, to family and war. His solo exhibitions include Southern Illinois University's Vergette Gallery,GRIDSPACE (NYC), the University of Jacksonville, Florida's Andrew Brest Gallery, and Noise Gallery (OH). Internationally, Meltz has exhibited at the IN Graafika Festival
,
Pärnu, Estonia, the Uranium Film Festival at the Museum of Modern Art in Rio De Janeiro, Brazil, the Trois-Rivières International Printmaking Biennial, Canada and the Duncan of Jordanstone School of Art and Design in Dundee, Scotland. In 2012 he received a Strategic Opportunity Stipend grant from the New York Foundation for the Arts, and his work has been featured in the publications
Paper Politics
,
Sociological Images, Printeresting
and the
Mid America Print Council Journal.
Meltz is the founder and curator of the East Coast National Screenprint Biennial and is a full time Lecturer at the Rensselaer Polytechnic Institute in Troy, NY.
https://nathanmeltz.com/home.html