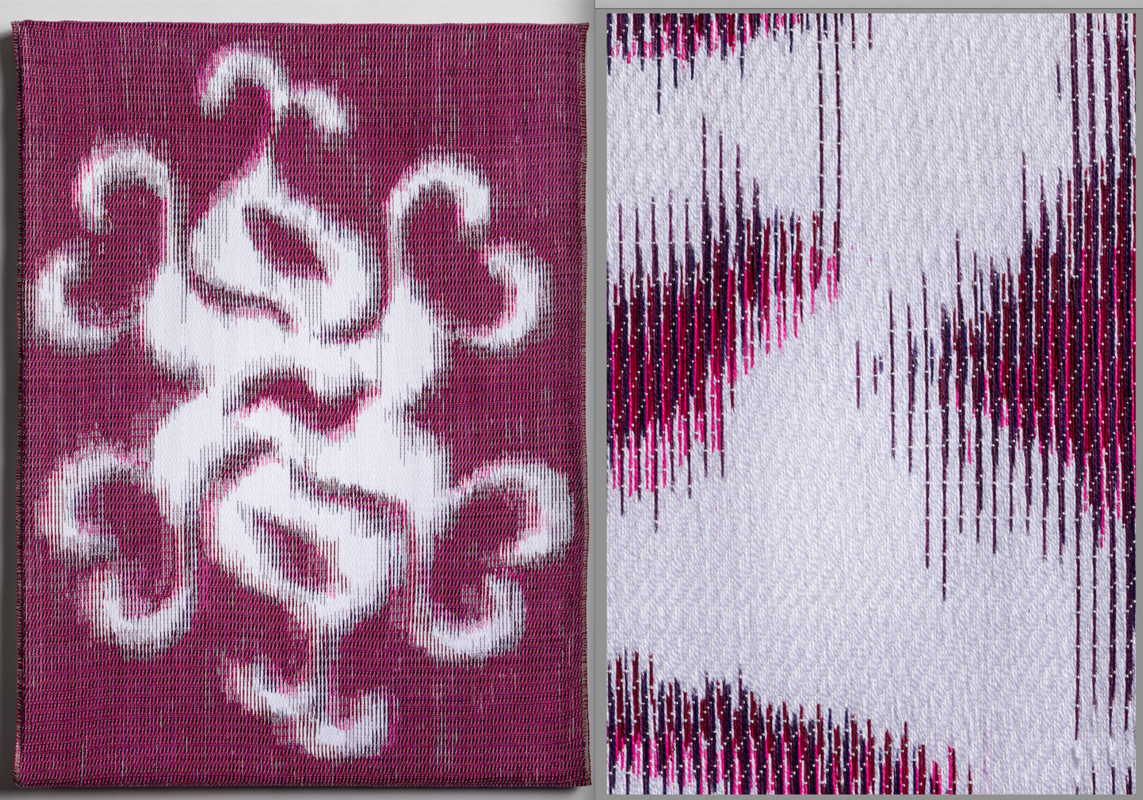 Oriane Stender, Original Grid
@ GRIDSPACE
March 31 – May 12, 2019
Opening reception: Sunday, March 31, 4-6 pm
Weaving is the Original Grid. Before Modernism, before latitude and longitude, there was the warp and the weft. An ancient technology, like seafaring, weaving appeared in many cultures and, with the invention of the Jacquard loom in the 1800s, was the progenitor of the computer.
Weaving myths appear in many cultures, as it is fundamental to civilization - it clothes and houses us and carries our food. In order to weave, one needs a thread. As in drawing, the basic unit is a line, yet this line exists in space and is used to create a plane, not quite three dimensions, but close.
In Greek mythology, the destinies of individuals are controlled by the Three Fates. Clotho spun the thread of life, Lachesis measured it out, allotting us our time, and Atropos cut the thread, ending a life. Perhaps the close association of women with weaving began with these three powerful goddesses who determined the fates of each of us. There is also Penelope, the wife of Odysseus, who wove on her tapestry every day and secretly unwove it at night, certainly a spiritual cousin to Sisyphus.
Weaving is both ancient and it is modern; it is fundamental and eternal. What Western civilization considers the highest art form consists of pigment embellishing a woven surface. So without weaving, there is no painting on canvas.
Oriane Stender has devised a system of painting and weaving (and a form of printmaking) which deconstructs and reverses the usual order; she paints the threads first, and then weaves the canvas. The results flicker in front of our eyes like images on just closed eyelids.
++++
Oriane Stender, an artist and occasional writer, was born and grew up in the San Francisco Bay Area. She went to some local schools, including UC Berkeley and San Francisco Art Institute. She learned weaving from Lia Cook during one semester at California College of Arts and Crafts (now CCA). She prefers not to become indoctrinated by institutional teaching, hence she did not go to graduate school. She picks up what she needs here and there.
Stender has shown at Gallery Paule Anglim (now Anglim Gilbert Gallery) in San Francisco; Sherry Frumkin Gallery in Santa Monica; Allan Stone Gallery in New York; Fred Giampietro Gallery in New Haven; Firecat Projects in Chicago; and many artist-run spaces in Brooklyn, including Transmitter, Trestle, Valentine, and Schema Projects. Her work is in the collections of Fine Arts Museums of San Francisco/de Young Memorial Museum; International Collage Center; Federal Reserve Board; Arkansas Arts Center; JP Morgan Chase; Centerbridge LLC; Synopsys Inc.; a few other corporations, and many individuals.
Her work has been reviewed in The New York Times, Los Angeles Times, San Francisco Chronicle, The New Criterion, and The Chicago Tribune, among other publications. Joe Scanlan, Director of the Visual Arts Program at Princeton University, has called her "the secret love child of Anni Albers and Andy Warhol."
Stender has written features for Artnet Magazine and Hyperallergic. She has been awarded grants and residencies from California Arts Council; Artadia: the Fund for Art and Dialogue; and the Millay Colony for the Arts. She lives in Brooklyn, NY.

++++++++
++++++++
++++++++
++++++++
GRIDSPACE

112 Rogers Avenue Brooklyn, NY 11216 2,3,4,5 to Franklin
gridspace.org