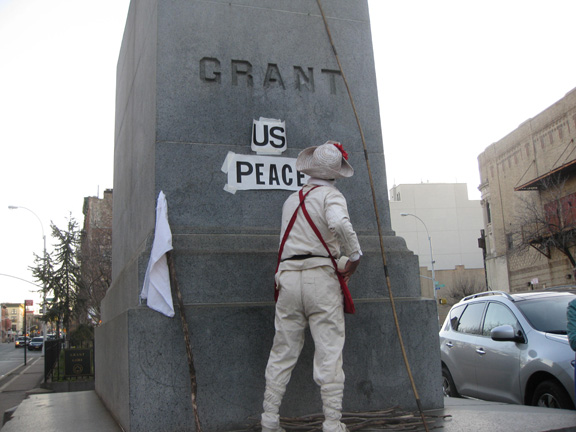 PROTEUS GOWANUS: BATTLE PASS
2012
Installation by Sasha Chavchavadze, Eva Melas, Robyn Love, and Angela Kramer Murphy
The first, biggest and arguably most important battle of the Revolutionary War is sometimes forgotten in the very neighborhoods where it occurred; the fields and marshes of 1776 are now a post-industrial urban landscape that includes a Federal Superfund site. Battle Pass: Revolution I at Gridspace is located several hundred feet from Bedford Pass, once a rocky outcropping that played a decisive role in the Battle of Brooklyn.
Battle Pass – Revolution I was a collaborative mixed media installation in the storefront window of the Crown Heights art space GRIDSPACE, visible from the street twenty four hours a day. The installation included "battle ship" assemblages made of found objects; a ceramic tricorn hat; a series of black ribbon cockades; and wood panels that included drawn, painted and burned imagery and text from the Walt Whitman poem "The Centenarian's Story."
Artists Sasha Chavchavadze, Robyn Love, and Eva Melas contributed to the installation; educator Angela Kramer Murphy wrote a short history of Bedford Pass, an important Battle of Brooklyn site that was just a few hundred feet from GRIDSPACE.
At the opening on March 11, Paul Benney, dressed in colonial garb, performed a piece inspired by the Battle of Brooklyn. Artist Robyn Love led a cockade-making workshop at the opening. Guests were asked to pick causes worth fighting for, and then create their own ribbon cockades to wear.
More on Battle Pass:
http://proteusgowanus.org/proteus-gowanus-archive/the-battle-pass-project/index.html